Hollywood actress arrested at pipeline protest
Comments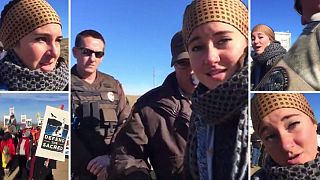 I am being singled out because I am well-known, because I have 40,000 people watching

Actress and activist
Actress Shailene Woodley has been arrested in North Dakota while protesting against a planned pipeline that Native Americans say will desecrate sacred land and damage the environment.
What happened?
The 24-year-old was taken into custody with 27 other people.
Officials say they face charges of misdemeanor, criminal trespass or engaging in a riot.
A spokesperson said Woodley was among the last arrested and was taken into custody after she left the private property.
The events were streamed live on Facebook.
As she was led away in handcuffs, Woodley said she was being singled out "because I am well-known, because I have 40,000 people watching."
Shailene Woodley livestreams her arrest during Dakota Access Pipeline protest https://t.co/bFYktNQ5d7

—

TIME

(@TIME) October 11, 2016
'Divergent' series star Shailene Woodley streams Dakota Access Pipeline trespassing arrest on Facebook Live. https://t.co/MMTadsTiqSpic.twitter.com/Qu6FIAwLAQ

—

ABC

News (@ABC) October 11, 2016
Where did it happen?
At a construction site for the pipeline about 3.2 km south of the town of St. Anthony in North Dakota.
Protesters of the Dakota Access pipeline have set up a camp near Standing Rock Reservation in North Dakota. https://t.co/TEeAv1BGIf#NoDAPLpic.twitter.com/Yjj55s6uwg

— Des Moines Register (@DMRegister) October 8, 2016
The Dakota Access pipeline
1,770 km long
Being built by group led by Energy Transfer
Will be the first to take Bakken shale directly to refineries on the US Gulf Coast
The group behind the pipeline, Dakota Access, had planned to start operations later this year.
However, protests have hindered the development.
On Sunday

A federal court rejected a request by the Standing Rock Sioux Tribe to halt construction of the pipeline.
However, it said the ruling is not the final word as government approval is still required.
On Monday

The Department of Justice, the US Army and Department of the Interior said construction will not be authorised on military property bordering or under Lake Oahe.
The Standing Rock Sioux tribe believes the pipeline, which will cross through North Dakota, South Dakota, Iowa… https://t.co/HntgFTUdX2

— Brian Michael Good (@1PearlofWisdom) October 11, 2016
For and Against – the arguments
The tribe believes the pipeline would leave its land vulnerable to contamination from oil spills and would damage historic and culturally significant sites.
Supporters say it would provide a safer and more cost-effective way to transport Bakken shale to the US Gulf coast by road or rail.
Who is Shailene Woodley?
Shailene Woodley was arrested for criminal trespassing while protesting Dakota Access Pipeline https://t.co/uo95ucAcXupic.twitter.com/0OQssokRvr

— Variety (@Variety) October 11, 2016
The actress is also known for her environmental activism.
She has previously joined members of North Dakota's Standing Rock Sioux Tribe to protest against the proposed construction of the 3.7 bn dollar project.
Earlier this year, she starred in the film "Snowden" as Lindsay Mills, the girlfriend of the former National Security Agency contractor Edward Snowden.
He fled the US in 2013 and was granted asylum in Russia after leaking details about the US government's massive surveillance programmes.
What they are saying
"They grabbed me by my jacket and said I was not allowed to continue..and they have giant guns and batons and zip ties and they are not letting me go," – Shailene Woodley says she was on her way back to her car when she was arrested.