Matthew weakens to post-tropical storm as it batters the US
Comments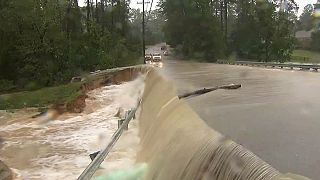 Matthew continues to batter the United States, slamming into North Carolina and Virginia overnight.
Although it may have weakened from a Category 5 hurricane to a post-tropical cyclone, it caused major flooding and black outs along the country's Atlantic coast.
Rainfall 6-10" in just the past 6-hours in SE Virginia from Hurricane #Matthewpic.twitter.com/QMnVbubncw

— Ryan Maue (@RyanMaue) October 9, 2016
Gusts of 120kph have been registered, and flash flood warnings issued in coastal communities.
Waves break off large section of the Oak Island pier. #HurricaneMatthew#MatthewNC#NorthCarolina Southport #NCpic.twitter.com/wRi68AnSj5

— Lucid Hurricane™✘ (@LucidHurricane_) October 8, 2016
At least eleven people have lost their lives, five in Florida, three in North Carolina and three in Georgia. Many residents remained in evacuation zones, waiting for the police to tell them when it is safe to go home.
Experts from the National Hurricane Center are warning that the storm could make a U-turn and hit the coastal areas a second time on Monday.