Fears of a cholera outbreak in Haiti amid Hurricane Matthew floods
Comments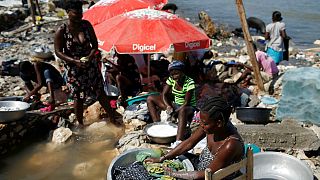 There are fears that disease could threaten survivors of Hurricane Matthew which already took the lives of nearly 900 people in Haiti.
Cholera has killed more than a dozen people in the southwest, according to officials. Still more are being treated in hospital in Jeremie.
The Pan American Health Organisation has warned of a surge in cholera cases. The poor Caribbean island has been hit by widespread flooding.
"A lot of people died. Yesterday we registered 438 dead in my region. We have 25 people suffering from cholera. We have a lot of wounded people and the situation is dire. It's a catastrophe," said Jean Gerrier, a member of the Haitian parliament for Moron district.
The UN's Central Emergency Response Fund is releasing five million US dollars to help Haiti. It has already loaned eight million dollars to UNICEF to respond to the cholera outbreak.
The United Nations Office for the Coordination of Humanitarian Affairs (OCHA) has reported that 750,000 people need emergency aid in Haiti following the hurricane.
Matthew howled through Haiti's western peninsula on Tuesday with winds of over 230 kilometres and hour, and torrential rain. Some 61,500 people were in shelters, officials said.
Thousands of people died of cholera after the earthquake which struck the island in 2010.