Matthew rolls across east US coastline
Comments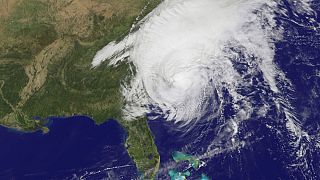 Deadly hurricane Matthew has lost some of its punch
after it made landfall in the US state of South Carolina.
Earlier it stayed just offshore as it passed Georgia and Florida where it killed five people, despite wind speeds dropping to under 85 miles an hour, making it the lowest category hurricane.
The interstate highway in South Carolina was severely flooded and altogether Matthew knocked out power to around one and a half million households and businesses.
All three states were hit by torrential rain and flooding as well as knocked down trees and damaged houses.
Around two and a half million people were warned they should evacuate but many who had survived previous hurricanes stayed put.
Unlike in Haiti where nearly 500 people were killed, most people in the US knew their homes were strong enough to survive Matthew.
In Florida people gathered up aid for the Bahamas which had been battered by one hundred and forty miles an hour winds on Friday, but without killing anyone.
"In less than 24 hours, we've gathered over 25,000 bottles of water. Thousands of diapers; there's food; there's tools – all types of stuff – to get to the Bahamians," the manager of Marathon city, Chuck Lindsey, said.
Much of Nassau, the capital of the Bahamas, was also left without power and palm trees were uprooted.
Those tourists who had decided to wait out the hurricane rather than evacuate sought shelter in hotels.