Guterres uncontested choice as 9th UN Secretary General
Comments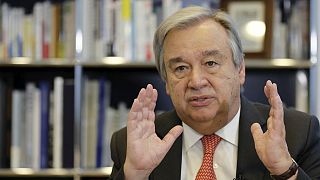 The Portuguese press has been unanimous. "We have all won today" it proclaimed at the news that former prime minister Antonio Guterres has been chosen as the next head of the United Nations.
He will take up office on January 1 2017, succeeding Ban Ki-moon.
The ninth secretary general is a moderate Socialist, fluent in English, French and Spanish, and for 10 years ran the UN's High Commission for Refugees. He has already broken with the past, as not one of the 15 security council members has opposed his nomination.
"Well ladies and gentlemen you are witnessing I think a historic scene. I don't know if it has ever been done this way in the history of the United Nations," said Russia's UN Ambassador Vitaly Churkin.
Congratulations to Antonio #Guterres: The clear winner in the #NextSG selection. We 1st met as Prime Ministers, & served together at the UN.

— Helen Clark (@Helen4SG) 5 octobre 2016
Guterres ran Portugal for seven years before an election defeat which led to him abandoning domestic politics, although he remained as head of the Socialist International until taking up his UN job. He oversaw Portuguese economic expansion, but party in-fighting and a slowing economy cut his second term short.
At the UN Guterres established a reputation as a straight-talking get-things-done kind of guy in one of the organisation's biggest and most visible agencies, in charge of a budget of billions, reforming the UNHCR and slashing its headquarters staff by a third to get more operatives on the ground. He has been vocal in his support for refugees, and in his criticism of those responsible for them leaving their homes.
He has also been a staunch European, backing the euronews project and a host of other EU initiatives designed to bring the continent closer together and resolve its differences through dialogue and understanding. He has also been scathing about global responses to lower-profile crises.
"It's absolutely essential not only to go on responding to the big emergencies that unfortunately are multiplying in the world, where power relations become unclear, and unpredictability and impunity become the name of the game, but we need to remember all those that nobody talks about," he says.