Catalonia ups pressure on Madrid over independence referendum
Comments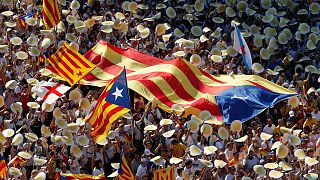 Catalonia's parliament voted on Thursday in favour of holding a referendum on independence in September 2017 – posing a new headache for Spain's central government, which has consistently rejected the idea.
Catalonia's separatist government won a confidence vote (72-63) it hopes will support its secession bid.
Support for independence in Catalonia has ebbed and flowed over the past year. A July poll put a "Leave" vote at 48 percent, and "Remain" at 42 percent.
When Catalan nationalists held an informal vote on the topic two years ago, 80 percent of those who cast their ballot backed independence.
The Parliament of Catalonia approves the #referendum on independence with 72 votes in favour and 11 abstentions pic.twitter.com/mBmhOf2TyC

— Catalan Government (@catalangov) October 6, 2016
Tensions are now mounting between Catalan separatists and Spain's central government over whether the wealthy northeastern region can legally break away from the country.
Catalonia is home to a sixth of Spain's population and accounts for roughly a fifth of its its economic output.
In August, Spain's central administration asked the Constitutional Court to annul a resolution by Catalonia's parliament in July to pursue independence. On Thursday (Oct 6), the court sided with the government and paved the way for possible criminal charges against the Catalan parliament's speaker for allowing the vote.
Spain Constitutional Court requests prosecutor file criminal charges against President of Catalan Parliament https://t.co/WCoPCyRIL5

— CataloniaDirect (@cataloniadirect) October 6, 2016
The disarray of Spanish national politics has not helped relations, as national parties have been struggling over the last 10 months to form a central government.
Catalonia's regional president, Carles Puigdemont, said last week he was open to negotiating the terms of a legally binding referendum, but that he would hold one with or without Spain's blessing.
Support for independence in Catalonia has ebbed and flowed over the past year. Some 48 percent of Catalans supported secession in a July poll, but that is below its peak from a few years ago.
Catalonia to hold independence referendum with or without Spain's consent https://t.co/YkyjsgVi05pic.twitter.com/5MdVJRXx7s

— Reuters Politics (@ReutersPolitics) September 28, 2016