Mexico launches "Mexicable" a cable car service with a difference
Comments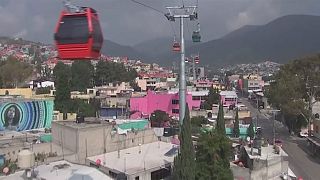 Mexico has launched its first cable car service as part of a wider public transport system.
The so-called Mexicable consists of 190 cars which can carry 10 people each. The cable cars carry passengers over the suburbs to outside the country's capital and connects them with other public transport.
Ya me imagino el #Mexicable "¡Súbale súbale, hay lugares!" pic.twitter.com/d3KXDKaajh

— Axelín  (@AxelinTintin) October 5, 2016
Mexican President Enrique Pena Nieto attended the inauguration on Tuesday
From end to end the ride will take 17 minutes compared to 40 minutes using ground transportation.
The project joins similar ones in Medellin, Colombia; Rio de Janeiro, Brazil, and Caracas, Venezuela.