Kaine and Pence trade blows and barbs at the vice-presidential debate
Comments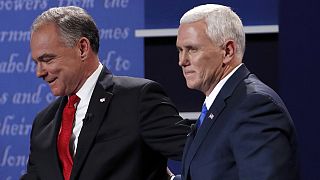 In a debate that at times lost political focus Donald Trump's running mate Mike Pence delivered a calm and assured performance.
The Governor of Indiana, a former talk-show host, rode the blows of his Democratic opponent Tim Kaine with out landing any himself.
Transcript: The most important exchanges of the vice presidential debate https://t.co/W0FfupxYQEpic.twitter.com/mPYCFFoQUM

— Los Angeles Times (@latimes) 5 October 2016
His success lay in the fact he avoided any of the hyperbole associated with the Trump ticket.
The vice-presidential debate was relatively civil, but still alarming https://t.co/t5wMVyaAsNpic.twitter.com/zWO6jPT1KM

— The Economist (@TheEconomist) 5 October 2016
Euronews Washington correspondent Stefan Grobe assess the event:
"The vice-presidential debate did not see a knockout winner, but Republican Indiana Governor Mike Pence won on points. That's the general feeling amongst analysts on the day after.
Democratic Virginia Senator Tim Kaine also had some strong moments being at times a bit too aggressive for someone who represents the leading ticket in the polls.
The problem for Republicans though is that Pence was everything that his running mate Donald Trump was not in his first debate with Hillary Clinton. Pence was calm, competent and coherent.
Trump who doesn't like to be upstaged will now not only be compared against Clinton but also against his own running mate.
As for Pence he might have laid the ground work for his own campaign in 2020."
Our cartoonist kaltoons</a> draws the <a href="https://twitter.com/hashtag/VPDebate?src=hash">#VPDebate</a> <a href="https://t.co/QOnX3nZEZN">pic.twitter.com/QOnX3nZEZN</a></p>&mdash; The Economist (TheEconomist) 5 October 2016