Russia detains Ukraine journalist on spying accusations
Comments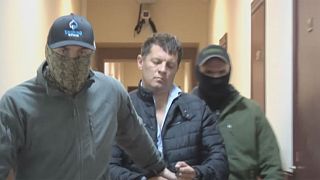 Russia's FSB security service has arrested a senior Ukrainian journalist on spying charges sparking a fresh diplomatic row between the two countries.
Roman Sushchenko was allegedly gathering secret information about Russian defence and security codes when he was detained in Moscow.
Russia still denies Ukrainian consul's access to arrested journalist Sushchenko: The employees of the Ukraini… https://t.co/18l39jFvr2

— Ukraine News (@UaNews_online) October 3, 2016
Ukrainian state news agency Ukrinform says Sushchenko is their Paris based correspondent who was in Russia in a private capacity.
Ukraine's foreign ministry said it was outraged by the arrest of Sushchenko, who it said had come to Russia to visit close relatives. It said the espionage charges brought against him were "trumped up".
Russian news agencies said a Moscow court had charged Sushchenko with espionage and put him under pre-trial arrest for two months.