Greek police use tear gas on protesting pensioners
Comments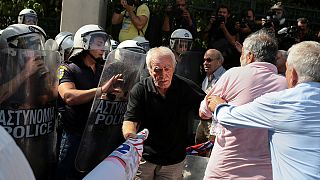 Around 1500 Greek pensioners tried to march to Prime Minister Alexis Tsipras's office on Monday to show their anger over cutbacks to their benefits.
Tensions flared when dozens attempted to push over a police bus. Police used tear gas to disperse the crowds.
RT https://t.co/2LmTKgQ84g Greek pensioners tear-gassed as they riot in the street protesting anti-austerity meas… pic.twitter.com/n0Jtuw52xW

— Athens Local Media (@local_athens) October 3, 2016
The government is expected to introduce further austerity measures for its 2017 budget as the request of international lenders.
Pensioners have been particularly hard hit by a combination of reduced benefits and higher taxes.
Due to austerity reforms, pensions in Greece have been cut repeatedly and they are now worth 25-55% less than they were before the economic crisis.