Greek pensioners protest austerity cuts
Comments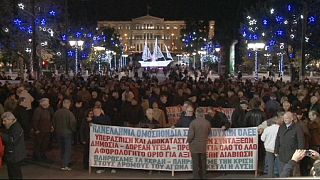 Hundreds of Greek pensioners have gathered in the capital to protest against austerity measures.
We have reached our limits, we can not take it any more.
Their message for the government: "We will not live on peanuts, we want our money back."
It comes just two days after the government announced a snap presidential vote, but this was the least of their concerns.
"We do not care who will form the next government," said pensioner Dimitris Varelas.
"For us the important thing is that we have reached our limits, we can not take it any more. This is why we are determined to fight for all the money that they have cut from us illegally."
It is estimated that pension payouts have been cut by 40% over the last four years.
In many cases retirees are now looking after their children due to the prolonged recession and high rate of unemployment. Since the crisis struck pensions have been the most stable form of income.
A Greek labour institute study shows the pension system at breaking point. If nothing is done the social system could fall apart by 2015, ten years earlier than expected.