Pope holds mass for 'little flock' in majority Muslim Azerbaijan
Comments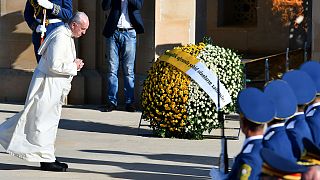 Pope Francis has capped off his Caucasus tour with a flying visit to Azerbaijan.
It marks his first trip to a majority Shi'ite Muslim country.
He held mass in the only Catholic Church in the country, to spread a message of inter-faith harmony.
"You are a little flock that is so precious in God's eyes," he told the 400 people in the church.
Azerbaijan has fewer than 600 Catholics, but several thousand foreigners make up the rest of the Catholic community.
"Of course it's wonderful, it's incomparable. The Pope himself came to visit us, it's a blessing, a blessing for Azerbaijan, for people of Azerbaijan. We are all in very high spirits now," said Elena Tagorova from Baku.
"It was a very emotional experience," said Laura from England. "When he walked in there was an air of peace. And it's very hard to describe. It was absolutely wonderful, and we feel very honoured to be here today."
Francis praised the country's religious tolerance, overlooking recent criticism of a referendum that extends the president's terms and powers, and avoiding Western allegations of human rights abuses .