Aleppo's main hospital on rebel side bombed again
Comments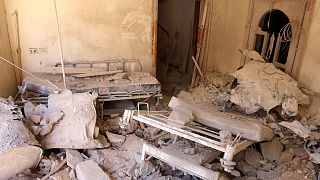 Russian warplanes and their Syrian government allies battered rebel-held areas in and around Aleppo on Saturday, and rebels and aid workers accused them of destroying one of the city's main hospitals and killing at least two patients.
The hospital is now out of service completely

Radiologist
The same SAMS's hospital in eastern #Aleppo that was targeted two days ago was hit again this morning by 2 barrel bombs & 5 airstrikes. pic.twitter.com/r5hMkSK9od

—

SAMS

(@sams_usa) October 1, 2016
M10, the city's main trauma hospital, in eastern Aleppo, was struck as the United States and its allies urged Russia, which is trying to crush resistance to Syrian President Bashar al-Assad, to halt the bombing and reach a diplomatic resolution.
Doctors in #Aleppo are ready to die – aware of the dangers and willing to stay there until the end. https://t.co/lAeiEQXMyC#DefendDoctors

—

PHR

(@P4HR) October 1, 2016
Saturday's air strikes focused on major supply lines into rebel-held areas of Aleppo – the Castello Road and Malah district and around the Handarat camp.
Fighting also raged in the city in the Suleiman al Halabi neighbourhood, the front line to the north of Aleppo's Old City and in the residential Bustan al Basha quarter.
Rebels and rescuers said at least seven missiles were dropped on the hospital, more commonly known as Sakhour, by both Russian jets and Syrian helicopters.
An American relief organization said two patients were killed and 13 injured in the attack, which was the second on the hospital in less than a week.
"The hospital is now out of service completely. There's destruction to walls, infrastructure, equipment and generators. There are no more guards or staff left. It's complete darkness," said Mohammad Abu Rajab, a radiologist in the hospital.
Footage of the bombed hospital on social media showed extensive damage.
The attack drew immediate condemnation from France and Germany. French Foreign Minister Jean-Marc Ayrault said the shelling of healthcare structures and personnel in Aleppo amounted to war crimes, adding: "Their perpetrators will be held to account."
"The bombing of Aleppo needs to finally stop! Whoever wants to fight terrorists does not attack hospitals!" German Foreign Minister Frank-Walter Steinmeier tweeted.
The U.S envoy to the United Nations last week called Russia's actions in Syria "barbarism," not counter-terrorism.