Syrian opposition group calls on Cairo for help to resolve the civil war
Comments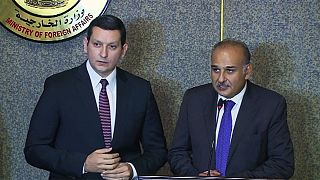 The Cairo Conference for Syrian Opposition delegation is in talks with Egypt to try to convince the Arabic power to have more involvement in efforts to resolve the Syrian civil war.
Following the breakdown of the latest ceasefire and the resulting escalation of the conflict, particularly in Aleppo, the opposition group has asked the Egyptian government to support increased efforts to assist civilians still living under siege.
"After getting our hopes up over the recent US-Russia brokered truce, the cessation of hostilities in Syria and preparations for a new round of negotiations in Geneva, we've found out that things are now worse than they were before," opposition member Jamal Suliman told euronews.
The delegation was formed following a conference for Syrian public figures in June, 2015, when a political solution to the crisis was mapped out.
Its head, Jihad Makdissi, added:
"We're not obliging everyone to take the same stance as us. Some decisions were taken by the UN Security Council and we simply want them to be enforced. For example, the Geneva Communique or the Vienna Convention, which outline the resumption of talks, set the basis for negotiations and also clarify the stages of political transition. So, we're not asking anyone to adopt our personal position, but simply to make an effort to stop this war."
Egypt is considered an important regional player and some groups believe it could do more to help resolve the conflict.