Dozens missing in eastern China after landslides
Comments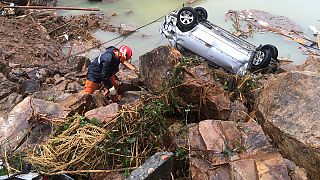 At least 32 people are missing in south eastern China after heavy rains triggered two major landslides.
15 people were reportedly pulled from the rubble in the mountain village Sucun, after a wave of mud swallowed up dozens of homes.
Amateur video caught the moment a mass of debris rolled down the mountainside slamming into the village below.
The landslides took place in China's eastern Zhejiang and Futsian provinces following torrential rain caused by Typhoon Megi.
The storm has brought severe flooding to large parts of China's eastern mainland, killing at least one person and leaving millions of homes without electricity. Some areas of Futsian are believed to have seen more than 300mm of rain in two days.