Russia slams US rhetoric for rising tensions over Aleppo
Comments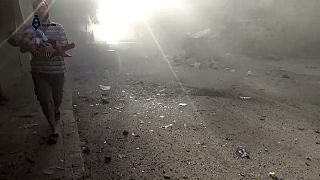 The Syrian military announced a new offensive against the city of Aleppo on Monday . Local reports claimed at least three people were killed in one neighbourhood including a woman and a child.
Russia and its ally President Bashar al Assad appear to be ignoring Western pleas to stop the bombing of urban areas.
Following the war of words on Sunday at the UN where the US's ambassador Samantha Power accused Moscow of barbarism over the bombing of Aleppo, Foreign Ministry spokeswoman Maria Zakharova has now lashed back at her government's critics.
"There have been all sorts of rhetoric, already verging on insults which the American, so-called diplomats, take liberties in saying. This is hysteria, which reveals their understanding that they are losing control of the situation and are doing the utmost to distract attention from the disastrous policy they are pursuing."
Russia and Syria insist they are targeting militants as they bomb rebel-held parts of Aleppo in their bid to recapture the whole of the city.
But medics are said to be struggling to cope with the huge number of casualties caused by the most sustained an intense aerial bombardment in years.
Aleppo onslaught: Hospitals overwhelmed, Few doctors left JamesAALongman</a> <a href="https://twitter.com/save_children">save_childrenUNICEF</a> <a href="https://twitter.com/amnesty">amnestyhrw</a> <a href="https://twitter.com/MSF">MSFtheIMEU</a> <a href="https://twitter.com/stephensackur">stephensackurpic.twitter.com/gomOkELPbz

— The Citizen (@DaifurRahmaan) September 26, 2016
Aleppo, once Syria's largest city and the country's commercial and industrial hub, has been divided roughly in two since 2012, with President Bashar al-Assad's forces controlling the west and rebel factions the east.
In the past year, troops have gradually broken the deadlock with the help of Iranian-backed militias and Russian air strikes. Earlier this month, they severed the rebels' last route into the east and placed its 250,000 residents under siege.
A short-lived truce brokered by the US and Russia provided them with a brief respite, but its collapse last Monday led to the Syrian military launching an offensive to take full control of the city.