Help finally arrives for some besieged Syrian towns
Comments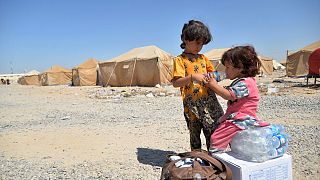 Aid convoys have reached some besieged areas of Syria where hundreds of thousands of civilians are trapped.
Although fierce fighting is raging across the country, desperately needed humanitarian relief has been delivered for the first time in almost six months.
The International Committee of the Red Cross says its convoys have made it through to Madaya and Zabdani near Damascus, as well as villages in Idlib province, where an estimated 20,000 people have been surrounded by insurgents since April 2015.
Last Thursday, UN relief operations in Syria resumed after a 48-hour suspension due to a deadly attack. The UN stopped land deliveries in western Aleppo after around 20 civilians were killed and a warehouse destroyed.