Manchester United throw off their shackles at last
Comments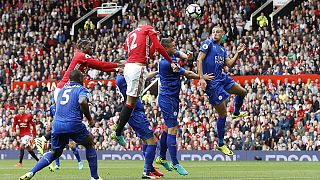 In this week's "The Corner" Leicester, the current defending champions of the English Premier League visited Old Trafford. They faced a team that needed to win no matter what to prove that the bad results of the past weeks were just a mirage. And well, they did prove it. Manchester United, finally, has woken up from the nightmare.
Where's Wayne?
The Red Devils have yet to recapture their fire and once again this season look like a collection of players more than a team. Until now some have said it is because their talismanic captain Wayne Rooney is no longer the force of nature he once was, and is slowing play down.
Well on Saturday he was on the bench and saw a new-look frontline attack with pace and penetration, and combining the short one touch passes with sprints Rooney could have reeled off in his pomp. Goals from Smalling, Mata, Rashford and Pogba, his first for the club, ensured Leicester had a mountain to climb, but the young blood ensured United did not run out of steam even if the defensive frailties that let slip a late goal remain.
For the champions it is looking like Claudio Ranieri is gambling on the Champions League as in this sort of form Leicester's title defence is over before it begins.
UP & DOWN
Today we talk about those football players who have just one mission: to score. One, finally, scored his first goal, another saw the match from the bench, and the last one is not having the same luck he had last season.
Pogback on form
Paul Pogba has disappointed at Manchester since becoming the world's most expensive player but he dazzled at the weekend and in one 10 minute burst scored one goal and had a hand in two more.
Rooning on empty
Wayne Rooney however only came on as a substitute when the match was won and looked on as Leicester scored a consolation goal.
Vardy sluggish
Another one to have a poor match was last season's premier league top scorer Jeremy Vardy, and when he is off the boil Leicester struggle to score any goals.
Wayne Rooney took only a peripheral role in Manchester United's latest match. It is very unusual to see a team captain starting from the bench. The press were keen to hear what Jose Mourinho had to say about his team selection, and how Claudio Ranieri defended his team.
"My captain is my captain. If he's on the pitch, if he's at home, he is my captain. So that's not a problem. But we thought today against a team like Leicester, the way they defend, the profile of their defenders, we thought that the best solution for us was to play with the two fast kids," said Jose Mourinho.
"I have to analyse this strange match because we started very well. The first 20 minutes we played our football. It's okay. We didn't create a lot of chances. Maybe we lost the last pass. But we were in the match. We put them under pressure. Between the two teams maybe we deserved more to score more goals than them," said Claudio Ranieri.
The press had plenty to say about the match.
The British media can smell blood in the water and multi-millionaire Rooney is a prime target for them at the best of times. So now everyone has a theory and everyone seems to think Rooney is over the hill and should not be playing. "It's obvious!" chorus the critics, but it is news for Jose Mourinho and Rooney themselves, who appear to be in denial over the dying of the light.
Our hot CL tips
This week the Champions League is back, so here is what our sports team forecasts for some matches. As always, you can join us and participate using the hashtag #thecornerscores.
Borussia Dortmund 1 – 2 Real Madrid
Atlético Madrid 0 – 2 Bayern Munich
Dinamo Zagreb 1 – 3 Juventus
CSKA Moscow 2 – 2 Tottenham Hotspur
There's only one Zlatan
We finish with this special mention to Zlatan Ibrahimovic. Or even better, to him and his twin brother. Don't miss the reaction of the Swedish superstar when he meets with his stunt double at Old Trafford.
Incident seems to follow Zlatan Ibrahimovic around, the latest coming at the end of the match when a fan rushed onto the pitch to embrace his hero. It looked like a family reunion, as the fan was the spitting image of his idol, who didn't seem too pleased to see his "bro" on the pitch. Match officials were even less pleased, and bundled the man onto the ground and away to the jeers and boos of the crowd.
The Corner comes back next Monday. See you soon.