Colombia prepares to bid farewell to arms
Comments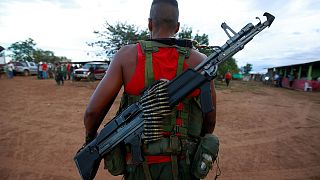 Colombia's government and Marxist rebel are readying to end a half-century war that's killed a quarter of a million people.
After four years of talks in Havana, Colombia's President Juan Manuel Santos and Marxist rebel leader Timochenko will shake hands on Colombian soil for the first time. The pair will also use a pen made from a bullet to sign their historic agreement.
Some 2,500 foreign and local dignitaries will attend the ceremony due to be held at 5pm local time in the walled, colonial city of Cartagena.
Colombia's President Juan Manuel Santos said: "I hope that together, and I really hope that all of us together, that those who have backed the 'no' vote and those who are sceptical… that we can all unite once the referendum passes and we can all create a new country together."
The deal to end Latin America's longest-running war will turn the FARC guerrillas into a political party fighting at the ballot box instead of the battlefield they've occupied since 1964.
Colombians will vote on October 2, on whether to ratify the agreement will allows the rebels to enter parliament without serving any jail time. There's been some high profile opposition but polls suggest it will easily pass.