Syria: UN's Ban Ki-moon 'appalled by chilling military escalation' in Aleppo
Comments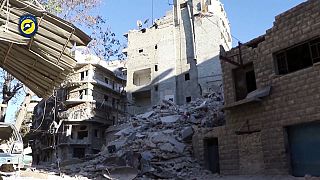 The death toll in Aleppo is said to have risen above 200 in just two days, provoking a strong reaction from United Nations Secretary-General Ban Ki-moon.
His spokesperson said the chief was "appalled by the chilling military escalation" in Syria's largest city, where government troops, supported by Russia, are battling the US-backed rebel forces currently in control of eastern Aleppo.
France, the US and the UK have called for an emergency meeting of the UN Security Council, to be held on Sunday afternoon, CET, diplomats say.
The offensive has further dashed hopes of reestablishing a ceasefire that crumbled on Monday, despite an assertion by Russia that the US has apologised for possibly striking Syrian troops in a raid against the ISIL militant group earlier in September.
"They (the US) themselves say: 'This is a mistake.' They offered an apology to the Syrians, so to say, through us," Foreign Minister said in an interview on Russian television.
The journalist asked if there had been an apology to Syrian President Bashar al-Assad, to which Lavrov responded "They did apologise."
At least 62 soldiers were said to have been killed in the US operation.
Washington claims the Syrian troops were unintentionally targeted. However, Lavrov said it was "hard to believe" coalition intelligence could "forget" the positions and locations of troops.