No change in Spain as regional polls fail to break political deadlock
Comments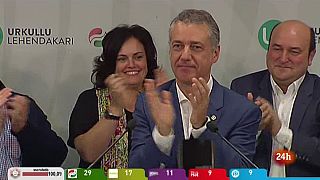 The Basque Nationalist Party lead by Íñigo Urkullu came out on top as predicted in one of two regional polls held in Spain on Sunday with seats and results
http://www.elmundo.es/
.
The PNV is set to keep its majority in the regional government but will as before need to form a coalition to run the fiercely independent region.
It had been hoped that the elections would signal a clear path to avoid a third nationwide election in December, but it seems little has changed.
In Galicia the conservative People's party retained its absolute majority, lead by regional president Alberto Núñez Feijóo.
In both ballots the Socialists lost seats ceding votes to anti-austerity newcomer Podemos.
With no obvious sign of movement in the regions Spain which has been in the hands of a caretaker national government since last December, looks headed for an unprecedented third general election in just over a year.