Syria: Aleppo under fire again from deadly air strikes
Comments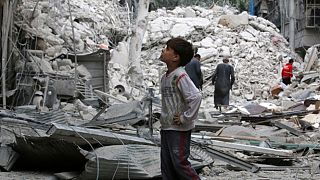 After ferocious bombardments on Friday, warplanes have mounted a new wave of heavy air strikes on rebel-held parts of Aleppo, monitors say, ahead of an expected ground offensive by Syrian government forces to take back the whole city.
Rebels say Syrian and Russian warplanes are involved in this latest phase of bombing although President Assad's ally Moscow has not confirmed its role. Rebel positions are officially being targeted but civilians including children are among dozens reported killed in the last two days.
Warplanes mount new strikes on rebel-held Aleppo https://t.co/1b1hcT1xMc

— Reuters Top News (@Reuters) 24 septembre 2016
At least 25 people died on Saturday morning alone, according to the Syrian Observatory for Human Rights, a British-based organisation that reports on the war.
The United Nations children's agency UNICEF says that the fierce attacks have left nearly two million people in Aleppo with no running water.
Unacceptable. Nearly 2 million people in #Aleppo are once again with no running water https://t.co/osGRIZoL5X#Syria@SingerHanaapic.twitter.com/qlEIm13Alm

— UNICEF (@UNICEF) 24 septembre 2016
A displaced boy in #Aleppo at a temporary shelter. Children continue to bear the brunt of the violence in #Syriapic.twitter.com/nIJZp8hnHn

— UNICEF (@UNICEF) 24 septembre 2016
It is a bitter blow to any hopes of reviving the truce brokered by the US and Russia which collapsed after Monday's deadly attack on an aid convoy near Aleppo.
Talks in and around the UN General Assembly have also failed to restore hopes of any end to a conflict now entering its sixth year that has left some 250,000 people dead, uprooted more than 11 million and provided a base for ISIL to launch and inspire attacks in the West.