Insiders investigates the exploitation of Syrian child labour in Turkey
Comments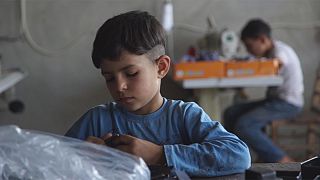 Gaziantep in southeast Turkey is now home to a large number of Syrian refugees who have fled their war-torn country.
Three children live there who left their town in Aleppo province with their mother two years ago. They fled after their father was killed when Islamic State militants took over the area.
The trio work in a shoe factory to cover the expensive cost of living in Turkey, despite the fact that they are under-age.
We spoke to Hamza Menbeji who explained: "When we were in Syria, a mortar fell on our house and killed my father, there is no work there, because of that we came to Turkey."
"There are four of us. I'm the eldest, I am 13, and one younger is 11 and the youngest is nine years old. I don't like working, I like school and playing, I would have liked to have started working when I'm older, but there is no one taking care of us here."
Abu Shihab, a Syrian businessman from Aleppo, owns the shoe factory. He told us he tries to help children by employing them in order to keep them from begging on the streets, even though he knows the legal working age in Turkey is 15.
"Each child gets around 15 euros a week. In exchange for his work and to help his family. There are employers exploiting these children, particularly Syrian kids."
"It's easy to exploit them sexually, it's easy to exploit them financially and even not to give them any money at all. They can't complain because of the labour law as they are under the legal working age, so they won't get anything," he added.
Hamza and his brothers work 12 hours a day and six days a week. Their mother, Um Hamza, is ill and can't work. She regrets that her children have to work, but says she has no other choice.
Um Hamza says life is very difficult: "Do you think I'm happy that my children don't go to school? I am not. But there's no other way, They are the only ones who are taking care of me and the home. There is no aid, no charities looking after us. My kids are wronged. But without them, we can't survive."
Reyhanli lies just across the border with Syria and is now home to as many Syrians as Turks. Many Syrian children work on its streets collecting scrap plastic, metal and cardboard.
Abdullah, 14, picks out recyclable items from trash cans for a Turkish recycling factory.
"I start working at six in the morning, I go take the cart from the owner, and he tells me, 'If you collect around 50 to 60 kg I will buy from you and give you the cart for free'."
We followed Abdullah for four hours, then we went with him to weigh what he had collected to sell at the recycling factory, and he got six liras, less than two euros.
We found three other Syrian children aged between 10 and 15 also working for the recycling factory, which is run by a Turkish man. While he let us film inside, he refused to talk to us.
Abdullah, 14, lives in a rundown garage with his eight member family. They fled Hamah a year and a half ago after the Syrian regime started shelling the city heavily.
"When we were in Syria, we would play outside, among the trees, we were going to school with our friends, we were safe, it was better. Since we came here we have to pay rent, water and electricity, said Abdullah.
ACT Centre for Psychological Support and Child Protection, is a non-profit Syrian organisation based in Reyhanli, which is working on reducing Syrian child labour in cooperation with the Turkish police.
Mohammed Bader Eddin, the director of ACT Centre for Child Protection, told Euronews: "I have met many children here in Reyhanli, who are working 14, 18 hours for five or six dollars, this is very low pay.
"There are many factories here that employ children, that encourage them to work and help them by giving them carts, bags and even carts pulled by horses for which they charge the children."
"Adults get more money, but not children, they're exploited, they work longer hours for a cheaper pay. Children are exposed to many violations in the streets, there are children who are raped and girls about 10 years old who are harassed sexually," Bader Eddin said.
Live updates from our Insiders team