Obama vetoes 9/11 victims bill, says no to legal action against Saudi Arabia
Comments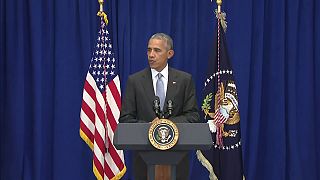 US President Barack Obama has vetoed the Justice Against Sponsors of Terrorism Act (JASTA), which would allow the families of victims of the 9/11 attacks to take legal action against Saudi Arabia.
The House of Representatives passed the JASTA bill earlier in September and the Senate voted unanimously in favour of it in May. However the president says it would harm US national security and damage important alliances. He argues terrorism-related issues are for policy officials to deal with, not the courts.
Congress could now annul his decision. If this happens, it will be the first veto override of Obama's presidency.
Al-Qaeda militants seized control of and deliberately downed four US passenger planes on September 11, 2001, killing 2,996 people.
Fifteen of the 19 hijackers were Saudi nationals, leading to suspicions they were backed by Arab state's government. Saudi Arabia denies the claims.