US House of Representatives votes to let 9/11 victims' families sue Saudi Arabia
Comments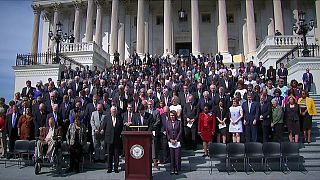 The US House of Representatives has passed a bill to allow 9/11 victims' families sue Saudi Arabia for damages.
It comes after the Senate passed the 'Justice Against Sponsors of Terrorism Act' unanimously in May.
However, the White House threatens to veto the measure, saying it could strain relations with Saudi Arabia and lead to retaliatory laws against the US around the world.
The bill needs two-thirds of the votes in both the House and the Senate to override a presidential veto.
Families of the 9/11 terror attack victims have been trying to sue the Saudi government, for their alleged support for the men who hijacked the planes which were flown into the twin towers in New York. Fifteen of the nineteen hijackers were Saudi.
Saudi Arabia opposes the bill and denies any involvement in the attack.
The vote came after House members sang 'God Bless America' on Capitol Hill to commemorate 9/11, just as they had immediately after the attacks on New York in 2001.