Police uncover world's largest illegal Viagra factory
Comments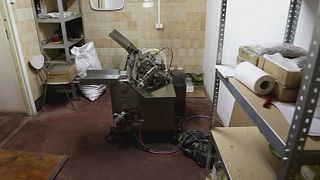 Police in Poland say they have uncovered what is thought to be the world's largest illegal Viagra and drug factory.
During a raid in the northern town of Bydgoszcz, officers uncovered:
A haul worth an estimated 3.95 million euros
100,000 fake pills for erectile dysfunction
430,000 vials of steroids
What have the police said?
It is alleged millions of euros worth of the counterfeit drugs were sold via the Internet.
Officials say popular brand names and own branding labels were used.
A police raid on an address in the town uncovered manufacturing apparatus worth an estimated million euros in a warren of secret rooms.
"When the police officers entered the building, the factory near Bydgoszcz, they discovered secret passages during a search. When they opened a cupboard, it turned out to be an entrance to the production room," said police spokesperson Agnieszka Hamelusz.
Has anyone been arrested?
Yes.
Police say 14 people have been arrested.