New York bomb suspect is formally charged
Comments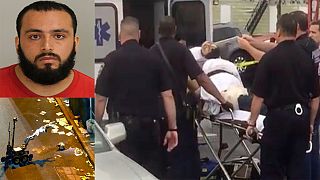 US prosecutors have formally charged Ahmad Rahami, the suspect who was arrested after weekend bombings in New York and New Jersey in which 29 people were injured.
Afghan-born Rahami who is a naturalised US citizen is accused on 10 counts including the use of weapons of mass destruction and the use of a destructive device.
The U.S. charged New York bombing suspect, Ahmad Khan Rahami, with using weapons of mass destruction https://t.co/lMipqBWzt3

— Newsweek (@Newsweek) September 21, 2016
Rahami who was captured on Monday in New Jersey after a shootout with police that left him with multiple gunshot wounds had already been charged with attempted murder of police during his arrest.
He is said to be in a critical but stable condition, although police have not yet been able to interview him.
New York City Mayor Bill de Blasio was seen visiting the Manhattan site where one of the bombs went off.
Surveillance video from the bomb scenes and fingerprints on unexploded devices are said to point to Rahami, according to the documents.
Several of the charges carry a maximum sentence of life in prison.
The federal charges come after Rahami's father revealed he'd reported concerns about his son being involved with militants to the FBI two years ago.
A Bureau spokesman said Rahami had been investigated but no ties to terrorism were found.
JUST IN: FBI releases statement on #Ahmad_Khan_Rahami. Sources say Rahami was not interviewed during "assessment." pic.twitter.com/vKtfaRAaT8

— Paula Reid (@PaulaReidCBS) September 20, 2016