US investigators probe New York bomb suspect's possible terror links
Comments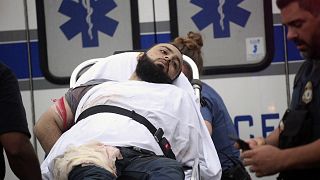 US officials are investigating what might have motivated the Afghan-born suspect arrested on Monday to have planted bombs in New York and New Jersey.
Ahmad Khan Rahami, who was injured in a shootout with police, has been charged by county prosecutors with attempted murder.
Various unconfirmed US media reports claim he had made several trips to Afghanistan and Pakistan and had undergone extra security checks upon his return, and that his wife had left the country days before the attacks.
The suspect is said to be "critical but stable" in hospital.
UPDATE: U.S. Attorney General Lynch says explosions in NY, NJ being investigated 'as an act of terror'

— Reuters Top News (@Reuters) September 20, 2016
Police have said they have found evidence linking the suspect to the scene of Saturday night's bombing in Manhattan and the explosion in New Jersey.
Rahami was arrested after a bar owner recognised him from photos of the suspect published in the media.
Journalists questioned his father about his son's activities.
"Did you know that your son was doing this?" Mohammad Rahami was asked.
"No," he replied.
You had no idea?"
"No idea."
All those injured in the New York blast have been released from hospital.
Investigators are said to believe that more people were involved in the bombing plots. Other devices were also found and the authorities have sought to reassure the public.
"You will continue to see throughout the week a strong visible NYPD (New York Police Department) presence especially from our critical response command and our strategic response group. You will see heavily trained officers and well armed officers. You will see people in our…officers in the subway you will see bags being checked, bomb sniffing dogs that will continue throughout the week," New York Mayor Bill de Blasio said on Monday.
The heightened security also covers the UN buildings where the General Assembly is meeting this week.
President Obama has said there is no known link between the bombings and an earlier knife attack in Minnesota in which ten people were injured.