Microbes and the meaning of life?
Comments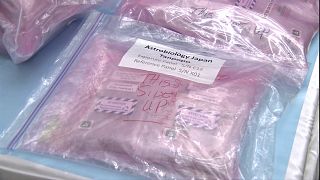 Researchers in Japan are hoping microbes from Space could hold the secret to the origins of life on Earth.
They plan to examine an instrument from the International Space Station for microbes.
The Japan Aerospace Exploration Agency, or JAXA, handed the device to a team led by Professor Akihiko Yamagishi of Tokyo University of Pharmacy
and Life Sciences.
It is hoped the study could help shed light on the origins of life.
What will they be examining?
The US spacecraft Dragon took the device to the ISS in April last year. It was brought back to Earth last month.
Developed by experts from Chiba University among others, is made of ten centimetre-square glass panels.
The panel has tiny holes designed to capture microscopic substances in space.
"One of the key areas of research will be confirming whether micro-organisms exist at an altitude as high as the International Space Station," said Professor Akihiko Yamagishi from Tokyo's University of Pharmacy and Life Science.
"Another is whether there are microbes in outer space. The studies will be conducted using equipment of the highest sensitivity."
Yamagishi says the presence of microbes would raise the possibility that life on Earth came from another celestial body.
What will they be looking for?
Researchers will check whether the device is host to micro-organisms and organic substances.
The results may be available as early as next year.