NY blast: search for the bomber
Comments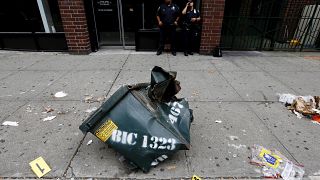 Investigators are sifting through blast remnants and video footage at the scene of an explosion in New York City that injured 29 people.
FBI investigators are examining remnants of the bomb, along with another unexploded device found four blocks away.
A pipe bomb also exploded around 130 kilometres away in New Jersey on Saturday.
Examinations are underway to track any potential links.
What happened?
The explosion, on a commercial and residential street in the district of Chelsea on Saturday evening, sent a powerful shock wave through several blocks.
What about the injured?
They were all hurt by shrapnel and flying glass.
All 29 have been allowed home after being treated in hospital.
What official response has there been?
New York City Mayor Bill de Blasio has urged witnesses to come forward with information.
"It was intentional. It was a violent act. It was certainly a criminal act. It was a bombing. That's what we know," he told reporters.
He promised the security presence would be "bigger than ever" for the United Nations General Assembly.
The UNGA brings world leaders together in Manhattan for six days, starting on Tuesday.
Speaking to the media, New York Governor Andrew Cuomo said Saturday's explosion was deliberate.
"At this time there is no evidence of an international terrorism connection with this incident – but it is very, very early in the investigation. Whoever placed these bombs – we will find them and they will be brought to justice."
Has any group admitted planting the bombs?
Not so far.
However, New York State Governor Andrew Cuomo has described detonating a bomb in New York City as "obviously an act of terrorism".
However, Cuomo resisted when reporters pressed him to give more details, saying investigators had yet to determine if there was a political motive.
A day of drama for the

NYPD

– in tweets
Detectives are examining CCTV footage
Video footage is still being gathered and reviewed by detectives. pic.twitter.com/h2gszIvrP6

—

NYPD

NEWS

(@NYPDnews) September 18, 2016
W23 st device being examined
The specific design/components of the device that exploded on W23St is being investigated. pic.twitter.com/DLjOnrwzbm

—

NYPD

NEWS

(@NYPDnews) September 18, 2016
Police troopers found device
The device on W27St was initially found by responding NYS Police troopers. pic.twitter.com/KBbNKj3cUT

—

NYPD

NEWS

(@NYPDnews) September 18, 2016
All buildings in the area are structurally sound
The buildings in the area were checked by FDNY</a> & <a href="https://twitter.com/NYCBuildings">NYCBuildings and deemed to be structurally stable.

—

NYPD

NEWS

(@NYPDnews) September 18, 2016
Two active crime scenes
There are two active crime scenes: West 23 Street and West 27 Street. The device that exploded on W23St was done intentionally.

—

NYPD

NEWS

(@NYPDnews) September 18, 2016
All 29 injured have now left hospital
All 29 people injured last evening in the Chelsea explosion have been released from the hospital. pic.twitter.com/cEWdtWdryI

—

NYPD

NEWS

(@NYPDnews) September 18, 2016
Roads still closed off in the area
Updated street closures regarding Chelsea explosion. #ChelseaNYCpic.twitter.com/vtwo5tFOeb

—

NYPD

NEWS

(@NYPDnews) September 18, 2016