Exhausted Jonny Brownlee collapses as Mola clinches World Triathlon Series
Comments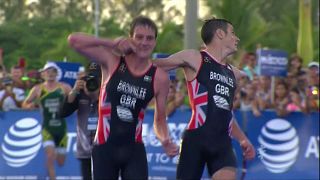 Alistair and Jonny Brownlee were brothers in arms at a dramatic finale of the World Triathlon Series as double Olympic champion Alistair carried an exhausted Jonny over the line in a desperate bid to help his younger brother secure the title.
After the 1.5km swim, the pair were in the leading pack that headed into the second transition one minute 39 seconds ahead. Jonny looked set to win the race and clinch the world title but it wasn't to be for the Rio Olympics silver medallist as he began to weave over the road in hot and humid conditions in Cozumel with only 700m to go before the finish line.
Third-placed Alistair, caught his brother and pushed him over the line while South African Henri Schoeman capitalised on the Briton's exhaustion to clinch his first world triathlon series win.
Jonny collapsed having finished second but Spaniard Mario Mola's fifth-placed finish in the final race of the series was enough for the Spaniard to top the overall standings and secure his first ITU world championship title.
Not how I wanted to end the season, but gave it everything. Thanks AliBrownleetri</a>, your loyalty is incredible <a href="https://t.co/6uG4QiIgfS">pic.twitter.com/6uG4QiIgfS</a></p>&mdash; Jonathan Brownlee (jonny_brownlee) September 19, 2016