Unity the buzz word in Bratislava as EU leaders meet post-Brexit vote
Comments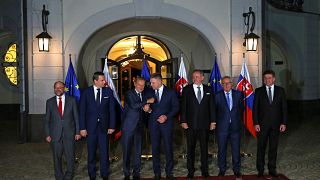 European Union leaders have gathered in Bratislava for the first summit following the Brexit referendum.
Officials have called for a frank and honest look at the problems facing the EU.
#BratislavaSummit -historic moment,need 2 show #EU unity,strong need 4 fresh start, #Bratislava roadmap,honest talks pic.twitter.com/cN4eWsj8rc

— Maroš Šefčovič (@MarosSefcovic) September 16, 2016
Following the British decision to jump ship unity is the buzz word in Bratislava.
Slovakian Prime Minister Robert Fico hosts the talks: "We all want to show unity and we all want to show that the EU is a unique project and we want to continue in this project. At the end of the day I hope that we will be ready to prepare a road-map of the most important topics we would like to deal in the next 6 months."
Brexit is not on the menu and the leaders are due to discuss the future of the 27 member state union.
I'm in Bratislava where EU leaders are meeting for a 'brutally honest' discussion about the future post Brexit… pic.twitter.com/RB1gYTdCJ3

— Tamara Cohen (@tamcohen) September 16, 2016
The European Council President Donald Tusk believes that migration remains at the top of the agenda.
As well as the Brexit backdrop host Slovakia is a member of the Visegrad group, a vocal contingent opposing EU policies and calling for powers to be reeled back from Brussels and returned to national parliaments.
European Affairs Correspondent Sándor Zsiros is at the summit:
"The Brexit referendum result made it clear that the EU is in deep crisis. There is a big debate about the EU's future direction. Some countries want more integration, while others like Poland and Hungary would like to take authority back from Brussels. This issue will generate a robust discussion at the summit, also on the agenda terrorism, the economy and migration. Sandor Zsiros, euronews, Bratislava."