Ukraine's Poroshenko calls for a "sustainable and comprehensive ceasefire"
Comments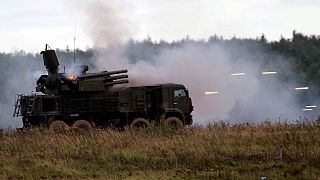 Russia ''has to provide a sustainable and comprehensive cease-fire'' in eastern Ukraine before steps towards peace can be taken, Petro Poroshenko has warned.
Addressing a conference in Kyiv, the Ukrainian President blamed Moscow and its separatists for failing to observe the latest truce which began at midnight on Wednesday.
"Our requirements are very simple. Russia has to provide a sustainable and comprehensive ceasefire in Donbass. We see during the last 24 hours, when we were promised the ceasefire that we had more than 30 shelling, including artillery and mortar shelling this night," Poroshenko said.
Poroshenko's comments came as rebels also accused Ukraine's military of violating the ceasefire. Meanwhile, in the face of fierce opposition from Kyiv, Crimea is set to take part in Russia's parliamentary elections this Sunday.
Earlier, speaking Bishkek in Kyrgyzstan, President Putin refuted claims the Black Sea territory had been annexed.
"Russia didn't annex anything. Everything that happened in Crimea stems from the unlawful actions of certain political forces which led to the coup in Ukraine. Crimea joined the Russian Federation because it was the will of the people living in this territory," Putin.
On Thursday France Jean-Marc Ayrault and Germany's Frank-Walter Steinmeier, who helped broker the latest unilateral ceasefire, visited a destroyed bridge near the eastern city of Slovyansk. Both foreign ministers voiced hope the truce would open the way for progress on the faultering Minsk peace agreement.