Carlo Azeglio Ciampi: the man who served Italy with 'passion'
Comments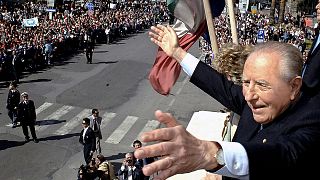 He will be remembered by many as a man who worked tirelessly for his country. Tributes are being paid to former Italian president, prime minister and central bank governor Carlo Azeglio Ciampi who has died, aged 95.
He played a big role in guiding the country into the European single currency, some called him "Mr. Euro."
Current prime minister Matteo Renzi said Ciampi was a man who served Italy with "passion."
He had been ill for some time.
Euronews reporter in Rome, Sabrina Pisu, described the legacy he leaves.
"'For the freedom of the citizens, for the unity of the homeland' – these were Ciampi's words when he was sworn in as president in parliament in 1999," she said.
"He would later demonstrate that they weren't just cliches. During his tenure, he would always defend the identity of the nation, the values of the anti-fascist resistance and the principles of the constitution.
"Italy is losing a man of the institutions, a man who made it his mission to fight for and to strengthen the basis of the European Union."