World anti-doping agency confirms second leak of athlete records
Comments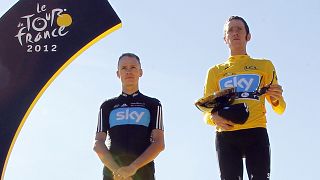 Medical records for cyclists Chris Froome and Bradley Wiggins have been leaked in the latest stage of what anti-doping authorities describe as a revenge campaign by Russian hackers.
WADA has no doubt that these ongoing attacks are being carried out in retaliation against the Agency

WADA Director General
The World Anti-Doping Agency (WADA) said data records of 25 athletes were published without authorisation on Thursday. They relate mainly to exceptions given to competitors to take drugs that are normally banned because of medical conditions.
There is no suggestion that any of the athletes did anything wrong.
In the latest leak, the hacking group known as APT28 and Fancy Bear by U.S. cyber-security researchers, revealed the data of athletes from eight countries targeting 10 from the United States, five from Germany, five from Great Britain, one from the Czech Republic, one from Denmark, one from Poland, one from Romania and one from Russia.
Earlier this week APT28 revealed the records of US tennis stars Serena and Venus Williams, US gymnast Simone Biles and US basketball player Elena Delle Donne.
"WADA has no doubt that these ongoing attacks are being carried out in retaliation against the Agency, and the global anti-doping system, because of our independent Pound and McLaren investigations that exposed state-sponsored doping in Russia," WADA Director General Olivier Niggli said in a statement. "We condemn this criminal activity and have asked the Russian Government to do everything in their power to make it stop."
In July the WADA released an independent report that accused Russia's sports federation of exchanging positive doping samples for clean ones during the 2014 Sochi Olympics. The report added that the Russian secret service was also involved.
The report prompted the ban of many Russian athletes from competing in the 2016 Rio Olympics.
The WADA says it believes records were obtained through a spear phishing attack of its email accounts through which passwords and access to its anti-doping administration and management system were obtained.
The hack attack targeted confidential medical data such as Therapeutic Use Exemptions, issued by national sports federations and anti-doping organisations to allow athletes to take certain substances.
"To those athletes that have been impacted, we regret that criminals have attempted to smear your reputations in this way; and, assure you that we are receiving intelligence and advice from the highest level law enforcement and IT security agencies that we are putting into action," said Niggli.
The anti-doping agency said the password of Yuliya Stepanova, one of the main whistle-blowers of the independent Pound Commission investigation, had been illegally obtained on Aug. 13.
It said, however, it has no reason to believe other medical records, other than the ones already released, have been compromised.