Scuffles on Chios over overcrowded migrant camp
Comments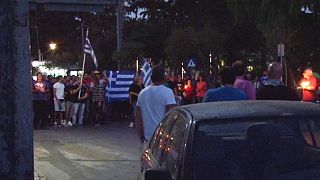 A demonstration against the Greek government's handling of the migrant crisis turned violent on the island of Chios on Wednesday night (September 14).
Reports suggest members of Greek ultra-right wing party Golden Dawn were involved in the protests.
Locals are angry over the rising number of petty crimes they say are committed by stranded migrants living on the island's overcrowded migrant camp.
Police fired tear gas when about 150 protesters marched to the island's refugee camp chanting anti-migrant slogans and singing the Greek national anthem.
According to the Greek government more than 13,000 people are housed on Greek island facilities built to house fewer than 8,000.
In total, there are over 60,000 refugees and migrants in the Greece. Most want to travel to Germany and other affluent member states.