At least one dead, over a dozen hurt in blast on Bali tourist boat
Comments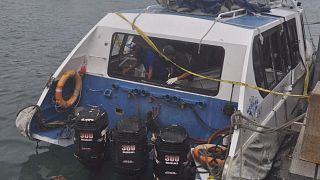 At least one person has been killed in an explosion on board a boat carrying foreign tourists off the coast of Bali. Some reports say two died.
More than a dozen were injured. It's thought to have been an accident: police say they don't think it was caused by a bomb.
Some reports say a Dutch national and an Indonesian died. Other accounts say a German woman was killed.
Thirty-five passengers, all foreigners, and four crew were said to have been on the boat which had just left Bali for Lombok. Both islands are among Indonesia's most popular holiday destinations.
Half of the tourists were from Britain with more from other European countries. A local police chief said from what he saw the blast came from a fuel tank.
The injured were taken to hospitals in Bali.
Thousands of islands in the archipelago are dependent on ferries but the industry has a poor safety record.
Last year dozens of tourists were injured in small explosions on board another ferry travelling between Bali and Lombok.