North Korea mass recovery efforts underway after floods
Comments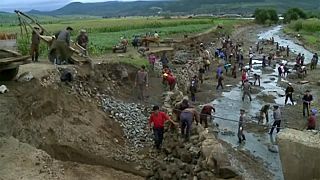 Clean-up operations are underway in North Korea after devastating floods.
More than 130 people were killed and tens of thousands of homes destroyed by the flooding which began two weeks earlier.
Almost 400 people are reported missing, and rescue teams have been unable to reach some of the worst-affected areas.
In the country's far north, Musan and Yonsa counties were some of the worst hit. Aid agencies are warning of a humanitarian disaster.
"We don't know yet how much of the rice crop or the cereal crop was totally destroyed but in a situation where the food security situation in normal times is pretty precarious, this could really have a detrimental impact and it could possibly be a secondary disaster in the months ahead," Patrick Fuller, IFRC spokesman explained.
The state media reported that the downpours had caused buildings to collapse, and major infrastructure was destroyed or under water.
The government called for a mass recovery effort from its citizens to reopen roads and rebuild homes in the next few weeks.