Initial 'calm prevails' as Syrian ceasefire deal comes into effect
Comments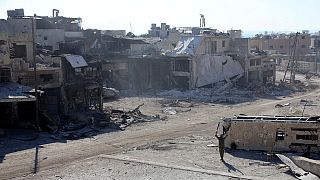 A nationwide ceasefire agreement in Syria brokered by Russia and the United States has come into effect. It is the second attempt this year by Moscow and Washington to halt the five-year-long civil war.
The Britain-based Syrian Observatory for Human Rights said at 4pm GMT that "calm is prevailing" in major conflict zones across the country.
The Syrian army said a seven-day "regime of calm" would be applied across Syria, and it reserved the right to respond using all forms of firepower to any violation by "armed groups."
A temporary ceasefire is now in effect in #Syriapic.twitter.com/iYrWR291us

— Syria Today (@todayinsyria) September 12, 2016
The Syrian Observatory for Human Rights said major conflict zones in Syria were calm after the ceasefire took effect.
"Calm is prevailing," Observatory Director Rami Abdulrahman told Reuters, giving an early assessment of the impact of the agreement.
He said there had however been some shelling by both rebel and government forces in the southwest of the country.
The Observatory gathers its information from a network of sources in Syria.
Rebel groups fighting to topple President Bashar al-Assad have yet to publicly declare whether they will respect the ceasefire, but rebel sources have indicated they will.
Moscow and Washington back opposite sides in the conflict.
Russia is a major backer of Assad, while the United States supports some of the rebel groups fighting to topple him, as does Turkey, which has stated its support for the agreement.