Schoolboy arrested in Paris on suspicion of planning 'imminent' attack
Comments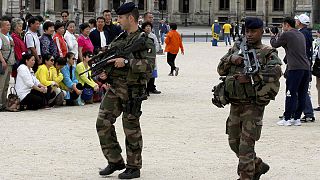 A 15-year-old boy has been arrested in Paris on suspicion of preparing what's described as an imminent "violent action."
It's the second alleged plot, thought to have links to ISIL, discovered in France in a week.
The boy had reportedly been under house arrest since a state of emergency was declared after the November attacks in the capital.
Amid the heightened security, French Prime Minister Manuel Valls has revealed that 15,000 people are being monitored for radicalisation.
"On our own territory we have 1,350 people under investigation, who today are in prison. Two-hundred-and-ninety-three of those have a direct link to terrorist groups," he said.
"There are about 15,000 people in France who are being monitored, because these people are in the process of radicalisation."
Earlier this month, a car loaded with gas cylinders was found near Notre Dame cathedral, along with containers of diesel. It led to the discovery of a plot to attack a subway station.
Seven people, including four women, were arrested. It is claimed one of the women was guided by suspected French Islamist militant Rashid Kassim.
The 15-year-old boy is also alleged to have had contact with him.