Croatia's Conservatives set to win most seats in parliamentary elections
Comments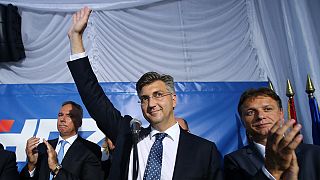 The Conservative Croatian Democratic Union – or HDZ – is set to get the most seats in the country's parliamentary elections.
But lengthy coalition horsetrading seems to be on the cards, with voters once again not returning a clear governing majority.
The Social Democrats are on course to come second.
"What I can guarantee, what I want and why I engage myself is that the next Croatian government will be stable, for the benefit of Croatian citizens, to be European-orientated, just as our friends recommended to us these days," said Andrej Plenkovic, HDZ leader.
The centre-right Most party is the likely kingmaker in this election, the second in a year after a government formed in November collapsed.
But it could be difficult for any party to build a coalition with a clear mandate for carrying out painful public administration reforms.
Croatia has one of Europe's weakest economies and is under pressure to tame debts and boost growth.