Hillary Clinton apologises for ''basket of deplorables'' comment
Comments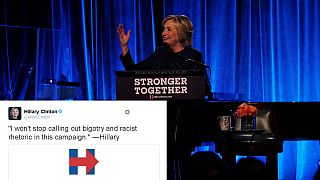 Hillary Clinton has said she regrets calling half of Donald Trump's supporters a ''basket of deplorables''.
The US Democratic presidential candidate made the remarks during a LGBT gala event on Friday, saying many of her rival's supporters were racists, sexists, xenophobes and Islamophobes.
Admitting later that she'd been ''grossly generalistic'', Clinton released a statement apologising, but went on to attack Trump.
Promising to fight ''bigotry and racist rhetoric'',
Clinton claimed the Republican nominee had ''built his campaign largely on prejudice and paranoia and given a national platform to hateful views and voices.''
Hitting back through a series of tweets, Trump accused Clinton of ''insulting,,, millions of amazing, harding working people,'' predicting it would cost her at the polls.
Later claiming he respected all of the Democratic nominees supporters, he also retweeted a message President Obama shared back in 2012. That recalled a gaffe made by Mitt Romney, the Republican presidential nominee at the time. Romney had said 47% of Americans on government dole supported Obama.
While it is still unclear how damaging Clinton's comments might be in the race for the White House, opinion polls appear to show Trump closing the gap on his rival. The two candidates are also said to be neck and neck in the key battleground states of Ohio and Florida.