US federal government halts Dakota oil pipeline
Comments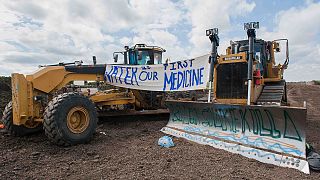 The US federal government has temporarily halted a controversial oil pipeline in North Dakota, moments after a judge approved the project.
Some 200 Native American tribes have united against the 3.2 billion euro project, while proponents claim the construction is the safest way to transport oil.
Ron Ness, from the North Dakota Petroleum Council said:
''This protest that has come up, I think it is unfortunate. Pipelines are the safest, most efficient, most reliable way to get oil to the market. We know this oil is going to be produced. What would you rather see it in? In trucks and trains or in pipelines?''
But branding the pipeline project as, 'The Black Snake', the
Standing Rock Sioux tribe and their supporters say it threatens the local water supply and sacred lands.
''They cannot guarantee that it (the pipeline) will not break or burst. Once it does, it will contaminate not only the waters, the soils, the plants. Everything in its path will die,'' Wokase from the Standing Rock Sioux said.
The US government's move effectively blocks the firm behind Dakota Access Pipeline from construction around a lake and its surrounding areas, until further consultation with Native American tribes.