Syrian forces retake key Aleppo district
Comments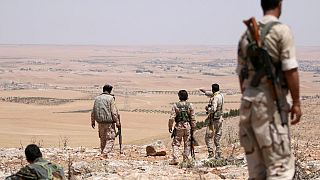 Syrian army forces and their allies have recaptured the whole Ramousah district of Aleppo, according to a monitor.
The advance further seals off rebel-held parts of the city, building on an advance last week that reimposed a siege on opposition areas.
The battle for Aleppo is seen by both sides as key to deciding Syria's fate.
President Bashar al-Assad's offensive aims to strengthen the buffer zone around their main supply route into the city from the south.
Along the Syria-Turkey border, Turkish tanks were hit by rockets on Wednesday.
According to the so-called Islamic State news agency, ISIL militants were behind the attacks.
While intense fighting rages between the government and rebel forces, the world's chemical weapons watchdog has announced it will launch an investigation into the suspected use of chlorine gas in an opposition area of Aleppo.
According to a rescue group working in the area, the attack on Tuesday caused suffocation in 80 people.