Queen singer Freddie Mercury honoured on 70th birthday
Comments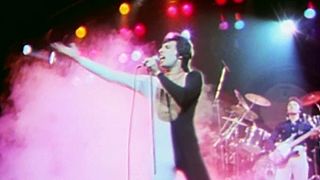 An asteroid has been named after the late Freddie Mercury. The songwriter who rocked the world as the lead singer for the 1970s rock band Queen, is being posthumously honored on what would have been his 70th birthday.
Former bandmate Brian May, who is now a doctor in astrophysics, made the announcement on his YouTube website.
"The International Astronomical Union's Minor Planet Center which operates out of the Smithsonian's Astrophysical Observatory has deemed it their duty and their pleasure, to name an asteroid after Freddie," said May, who became an astrophysicist following the break up of Queen. "It will be called AsteroidFreddieMercury, all one word, 17473, and it was discovered in 1991 and this is to honor Freddie's 70th birthday, and this announcement will be published on September the fourth, the day of his birthday, by the IAU, the International Astronomical Union."
The space rock sits in the main Asteroid Belt located between Mars and Jupiter and measures two miles in across. It was discovered in 1991, the same year that Briton Mercury died.
Asteroid named after iconic rock star Freddie Mercury pic.twitter.com/FLruMHWUfw

— Yahoo News (@YahooNews) September 6, 2016
Formed in 1971, Queen, originally consisting of lead singer Mercury, guitarist May, drummer Roger Taylor and bass guitarist John Deacon, went on to become one of the best-selling musical acts of all time.
Brian May gifts Freddie Mercury with namesake asteroid on what would have been the singer's 70th birthday https://t.co/eAbWJsnY7E

— Rolling Stone (@RollingStone) September 5, 2016
Queen is best known for the rock anthems "Bohemian Rhapsody," "Crazy Little Thing Called Love," and "We Are the Champions."
Reuters