New era for Formula One as US firm Liberty takes control
Comments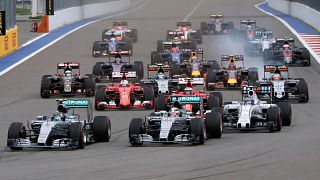 A new era has begun for Formula One.
The European-dominated sport is being taken over by an American media mogul.
The world's top motor-racing championship has long sought to break into the US market and win fresh audiences.
News that American cable TV magnate John Malone's Liberty Media is paying 4.4 billion dollars to take control from outgoing rights holders CVC should help it achieve that aim.
Formula One will have a new American owner, Liberty Media https://t.co/kvuRpMBAL5

— TIME (@TIME) 8 septembre 2016
Despite the changes, British businessman Bernie Ecclestone remains in the driving seat. He says he has been asked to stay on as Chief Executive of the glamour sport for the next three years.
A controversial figure, the 85-year-old has been a part of Formula One ever since the 1950s.
The commercial supremo has run the sport for nearly 40 years and built it into a business with an annual turnover of around $1.9 billion.
Liberty Media agrees $8bn deal to buy F1 with Bernie Ecclestone set to stay on https://t.co/BkweWeQ0kApic.twitter.com/h9J2YRQ5Sp

— Guardian sport (@guardian_sport) 7 septembre 2016
The Liberty deal, which has an enterprise value of $8 billion according to a company statement, represents the biggest shake-up in Formula One for decades.
Liberty Media said in a statement, which ended a long-running saga surrounding the sport's ownership and potential flotation, that it was acquiring an initial 18.7 percent stake from controlling shareholder CVC Capital Partners.
The company hopes to complete a deal for the remainder by the first quarter of 2017.
It will be subject to the approval of the International Automobile Federation (FIA), the governing body for Formula One and other global motorsport series, and European anti-trust regulators.
Liberty Global is the world's largest international TV and broadband company, operating in more than 30 countries in Europe, Latin America and the Caribbean through a series of different brand names.
Liberty Media already has sporting interests, notably in the Atlanta Braves baseball team.