Israel constructing underground barrier along boundary with Gaza
Comments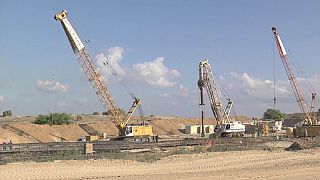 Israeli sources cited by Reuters news agency said that construction has begun on an underground barrier along a small stretch of its boundary line with Gaza.
In the past Hamas militants have used underground tunnels to attack Israel.
"The Palestinian people and the resistance can overcome all the obstacles made by the occupation," said Hamas spokesman Salah Al-Bardaweek, refering to Israel. "The resistance is creative and advanced and doesn't care about the occupation's procedures."
---
The Palestinian High Court in Ramallah has suspended local elections that were scheduled for next month.
The ruling was made after a dispute over party lists and the inability to hold the vote in East Jerusalem, which is annexed by Israel.
---
Interfax news agency reported Russia's foreign ministry said that the Palestinian president and Israeli prime minister had agreed in principal to meet in Moscow.
No date was given for the meeting.
Last week, "Hamas-controlled courts in Gaza disqualified four Fatah-backed slates of candidates", and then five more Fatah lists this week.

— Daniel Wickham (@DanielWickham93) September 8, 2016