Belarus Paralympic official banned from Rio Games for Russian flag gesture
Comments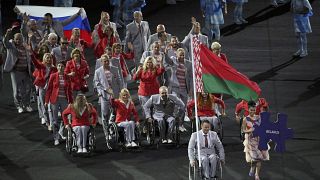 A Paralympic Official from Belarus, Andrei Fomochkin, has been banned from the Rio Paralympic Games after waving a Russian flag at the opening ceremony.
The International Paralympic Committee (IPC) say that it was a political gesture, which are not allowed at Olympic and Paralympic games.
Mr Formochkin's action is seen as support for Russian athletes who have been banned from the Paralympic Games due to the continuing fallout of the McLaren Report by the World Anti-Doping Agency, which alleged that Russia was engaging in "state-sponsored doping".
But the response in Russia has been the opposite to that of the IPC. A spokesperson for the Foreign Ministry said Fomochkin "showed solidarity with people who were disgracefully treated in an inhumane way in not being allowed to compete at the Paralympics" and referred to him as a "hero".
At home in Belarus Mr Fomochkin's actions were also praised as President Alexander Lukashenko said "We stand in solidarity with the Russian Paralympians".
The IPC head of media, Craig Spence, said Mr Fomochkin's action were easily identifiable as political protest, because "the president of the Belarus National Paralympic Committee (was) so vocal in the media before these Games saying he disagreed with our decision (to ban Russian athletes)".
The IPC will now watch Belarus' athletes carefully, especially at medal ceremonies, and as it has shown with Mr Fomochkin's punishment, it will not be afraid to strip the accreditation of others who break the strict ban on political protest.