Paralympic Games kick off in Rio, amid funding crisis and cheating claims
Comments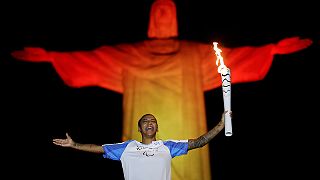 The Paralympic cauldron has been lit up, marking the official start of the Paralympic games in Rio de Janeiro. But almost everything has been scaled back, from venues to seating and staffing, after the organising committee ran out of money.
This is the worst situation that we've ever found ourselves in

International Paralympic Committee President
Only a last-minute Brazilian government bailout helped save the event, which features more than 4,000 disabled athletes from around the world. Ticket sales picked up at the last moment, going from 200,000 at the end of the Olympic Games to more than 1.5 million.
Amid the mess, Rio's Archbishop Dom Orani Tempesta struck an optimistic note: "We expect Brazil will do well and win a lot of medals to bring joy to its people, but at the same time I think all athletes who will be competing have already won the medal for overcoming themselves," he said.
However, officials warned the "athlete experience" could suffer from the funding crunch. International Paralympic Committee president Philip Craven told the Associated Press this was the "worst situation" the Games had ever faced.
'Worst situation ever in Paralympic movement,' IPC president says before Rio Games https://t.co/aATYWbhLytpic.twitter.com/zlgJekVsMC

—

NBC

OlympicTalk (@NBCOlympicTalk) 5 septembre 2016
Concerns were also raised that UK athletes may be abusing the classification of their disabilities to improve medal prospects, a claim rejected by the British Paralympic Association.
The BPA's chief executive Tim Hollingsworth denied there had been any attempts to cheat the system.
"We are here to win medals, but within both the letter and the spirit of the Paralympics," BBC Sport quoted him as saying.
Paralympic classification expert claims 'cheating is not endemic' – refutes reports https://t.co/UXNeNt880b via TelegraphSport</a></p>&mdash; Gareth A Davies (GarethADaviesDT) 4 septembre 2016
Here's how the Paralympic Games first started https://t.co/eNpGnOM4gr

—

TIME

.com (@TIME) 6 septembre 2016