Dozens ill after alleged Syrian government chlorine attack on Aleppo
Comments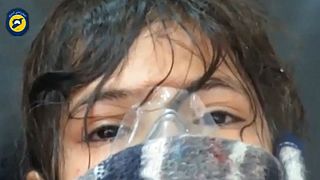 An alleged chlorine gas attack on the Syrian city of Aleppo is said to have led to dozens of people including children being treated in hospital for suffocation.
Reuters believes pictures posted on social media to be genuine. Several men and children are seen being attended to in hospital, some wearing oxygen masks.
The Syrian Civil Defence, a rescue workers' group, claims government helicopters dropped barrel bombs on the Sukari neighbourhood, a rebel-held area of Aleppo, on Tuesday. The group said on its Facebook page that 80 people had suffocated, but it reported no deaths.
According to Al Jazeera, the attack caused at least one death.
Separately, other pictures showed debris of destroyed buildings and emergency workers loading what is described as a barrel bomb casing being loaded on a pick-up truck.
"The bombing caused great destruction, as you can see, and the barrels contained chlorine. We had a lot of cases of suffocation, many children were affected. This area is full of civilians. There are no military barracks here," said a young unidentified man in the video.
The Syrian government has always denied accusations of using chemical weapons. A military source denied on Wednesday that the army had launched a chlorine gas attack this week, saying the claim was an attempt by rebels to divert public attention away from their defeats.
"We have not and will not use at any point this type of weapon," the military source was quoted by Reuters as saying.
Last month a UN inquiry found that Syrian government forces were responsible for two toxic gas attacks in 2014 and 2015 involving chlorine.
The latest reports came as UN war crimes investigators based in Geneva gave details of previous alleged attacks.
"We have received reliable information concerning the use of chlorine gas in Sheikh Maqsoud neighbourhood of Aleppo city, particularly at the beginning of April, on the 5th, with various people being taken to hospital for chlorine gas inhalation symptoms. We are also now investigating new allegations of chemical weapons use, particularly pertaining to (an) August incident," said Vitit Muntarbhorn, of the Independent Commission of Inquiry on Syria.
No more details were given over what may have happened in August.
Neither did the UN comment on who might have committed the latest Aleppo attack, saying only that the neighbourhood had sustained intense shelling on Tuesday.
Aleppo has been hit by escalating violence since the collapse of a partial truce brokered by the United States and Russia. The city has long been divided between government and opposition-controlled areas.
Syrian conflict & on-going violations will only come to an end w/ return of parties to negotiation table https://t.co/vtHT0IspSY#COISyria

— United Nations (@UN) September 6, 2016